How to get from here to there.
You have some photographs of flying boats, and you'd like to scan them into digital format so that you can share them around on Seawings. The process is fairly simple, but can be time consuming. There is little satisfaction in uploading a fuzzy and washed-out image, why not do it properly?
What you will need:
Hardware.
A computer, obviously. The technical specification need not be challenging, as what we are about to do will not necessarily need a lot of grunt. The screen size is probably more important – I use a desktop rather than my laptop simply to get a greater screen size.
A scanner.
You are not going to get great results from a cheap multifunction box. These are simply incapable of producing good work. What you really need is a high-end scanner that can give you physically large scans at high resolution. Don't panic. Your local internet auction site is your friend. Professional scanners become obsolete quite quickly, and end up on the used market at lowish prices. I have three scanners (one for 35mm slides and negatives, one for large negatives and one for prints) and I bought them all through on-line trading sites second hand. One of them cost me $1.
Plenty of disk space.
You will be creating large high-density files. You need somewhere to keep them. I have two 1.5TB external disk drives. I scan to an internal drive, and use these external drives for archiving and backup. You can never backup too much.
Software.
The software that comes with your scanner will probably be of limited use. You need scanning software that gives you more options than that, particularly if you have more than one scanner. I use Vuescan and can recommend it. There are others. Find one that suits you.
A graphics program.
Photoshop is the number one name and comes with a high price and a steep learning curve. I use Paintshop Pro, which is a mid-range program much cheaper and I find easier to use. There are also free graphics programs around, but these generally have limited functuality.
Organization
You need to keep things under control, and not end up with hundreds of graphics files with strange names and no idea of what is where.
When I scan I label the output file with the aircraft registration eg ZK-AMD
In New Zealand, CAA frequently re-issue registrations once the original aircraft has passed on. If I have scanned a photo of a subsequent aircraft, this would be ZK-AMD2
Where I have several photos of the same aircraft, I sequence these as ZK-AMD2a, ZK-AMD2b etc.
I save all my scans in a folder that, after considerable amount of thought, I called
scans
.
When I have processed the image in Paintshop Pro I save the finished output file, using the same name, in a folder called
photos
.
I back these up to the external drives on a weekly basis.
Thus I can always find a particular photo of a particular aircraft, and if I do need to access the original scan I also can easily find that within the appropriate folder.
Scanning
Your aim will be to produce the largest file with the most detail from your source photograph. Wherever possible, scan the original negative or slide rather than a print off that negative. You will generally get better quality from the original. Obviously you scan prints when the original film is no longer available. Always remember that you can remove detail and reduce the size of the photograph at subsequent stages of the process but it is really difficult to add detail at a later stage.
My default settings are a scan size of around 2500 x 1560 pixels at 600dpi. A light grain reduction setting can also help when scanning 35mm stock at this resolution.
Always save your scan in a non-compressed file format,
never
as a jpeg. You want to keep all the quality you have worked hard to achieve. Output file formats such as tif or bmp are what you want. Depending on whether you are scanning black & white or colour, you will produce scan files of around 1000KB – 4000KB. That's why you need plenty of disc space.
Image manipulation.
(I'm assuming here that you are creating image files using Paintshop Pro for use on the Internet).
Open your tif or bmp file in Paintshop Pro and look at what you have to work with.
This negative is an unusual, now obsolete size, so I scanned it sitting on a glass plate (the negative, not me!)
The sequence I normally use is:
- Check the image for straightness. Is the horizon level? Are the verticals actually vertical? If not, select Image>Free Rotate and rotate it left or right one or two degrees until this is corrected.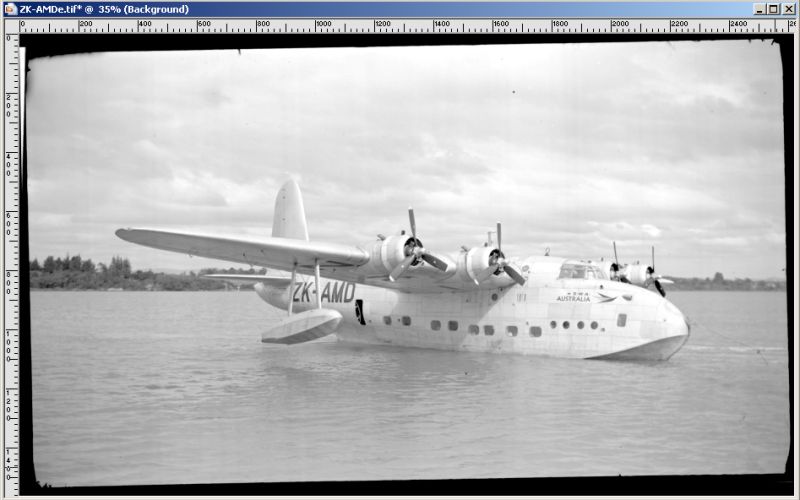 Now look at the overall picture. You want to cut out any damaged areas around the edges of the image, and possibly bring the image down to a balanced composition that will focus the eye on the main subject. A ratio of 4 x 6 is normally used for photographs, and the Crop Image tool will give you a 4 x 6 horizontal option that can be used to achieve this.
In this case, the scanned image will not give me that 4 x 6 ratio and still fit all the aircraft in the picture, so I use a work around:
- Select the entire image.
- Copy the image (to the computers clipboard).
- Open a new blank image (I have a default setting of 5000 x 4000 pixels, white background, for this).
- Paste from the clipboard as 'New Selection'
- Deselect the image in the new picture.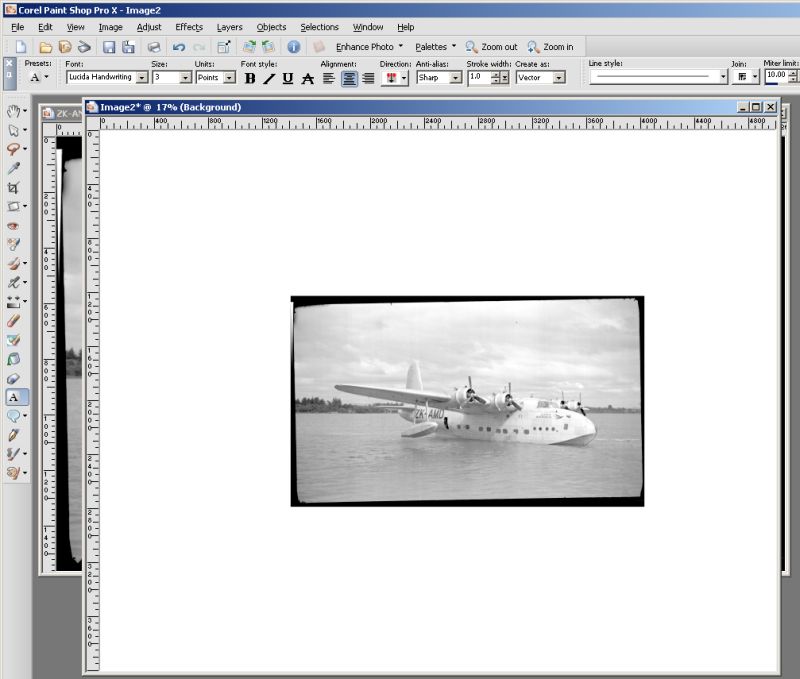 Crop the image to the 4 x 6 ratio to give the image layout that you want.
Obviously, if you can crop the original image to create your desired picture without excluding any desirable elements, you don't need to go through this step.
Now you can start improving the photo.
In Paintshop Pro, there is a very handy feature called 'Smart Photo Fix' under the 'Enhance Photo' drop down menu. Use it. It will save you heaps of time.
When you carry out this step, you will get a window that shows you a thumbnail of the original image alongside the suggested improvements. You can modify the suggestions by moving the sliders.
In this case I moved the 'Overall slider up about 10 points to 25, and increased the 'Shadows' to 45. This is the outcome.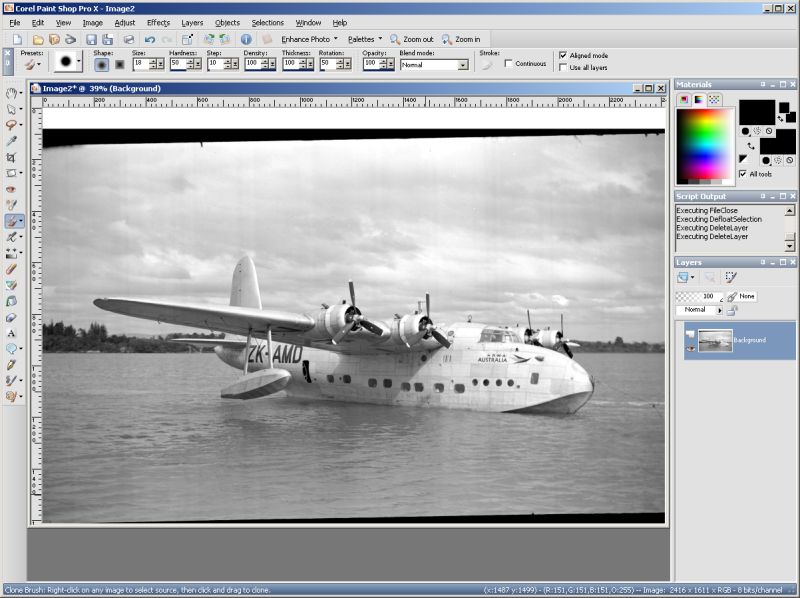 Next step is to clean up the image. I increase the magnification to 100%, and use the clone brush tool to carry out repairs, and remove blemishes. A round tool footprint, 100% opacity and size set to 18 seems to work best here.
Once the basic cleanup has been done, I then increase the magnification to 120% or 150% and reduce the clone tool size to 8 to really get into those small imperfections. Sometimes even a size 4 is necessary. A lot of time can be spent doing this, every minute will be worth it for the resultant image quality.
We now have a clean photo, but still have margin at the top and the bottom. We can fill those in also with the clone tool at a nice large size, 95 in this case to do the sky.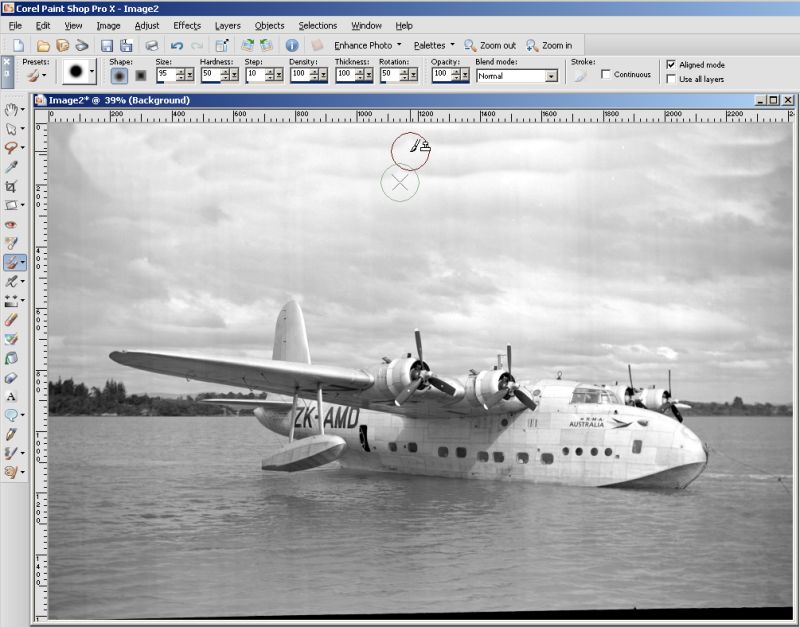 After carrying out the same work on the sea, we then need to merge these patches into the rest of those areas. Increase the clone tool to a larger size, set opacity to 30% and wash over these areas to merge them in.
It all looks pretty good now, but we still have a large uncompressed image, too large to show on Seawings. Reduce the size to 800 pixels wide, and then the final step is a bit of sharpening. Look for the 'Unsharp Mask' feature on your image program and use that – a radius of 1, strength of 50 and a clipping of 2 seems to work well for me.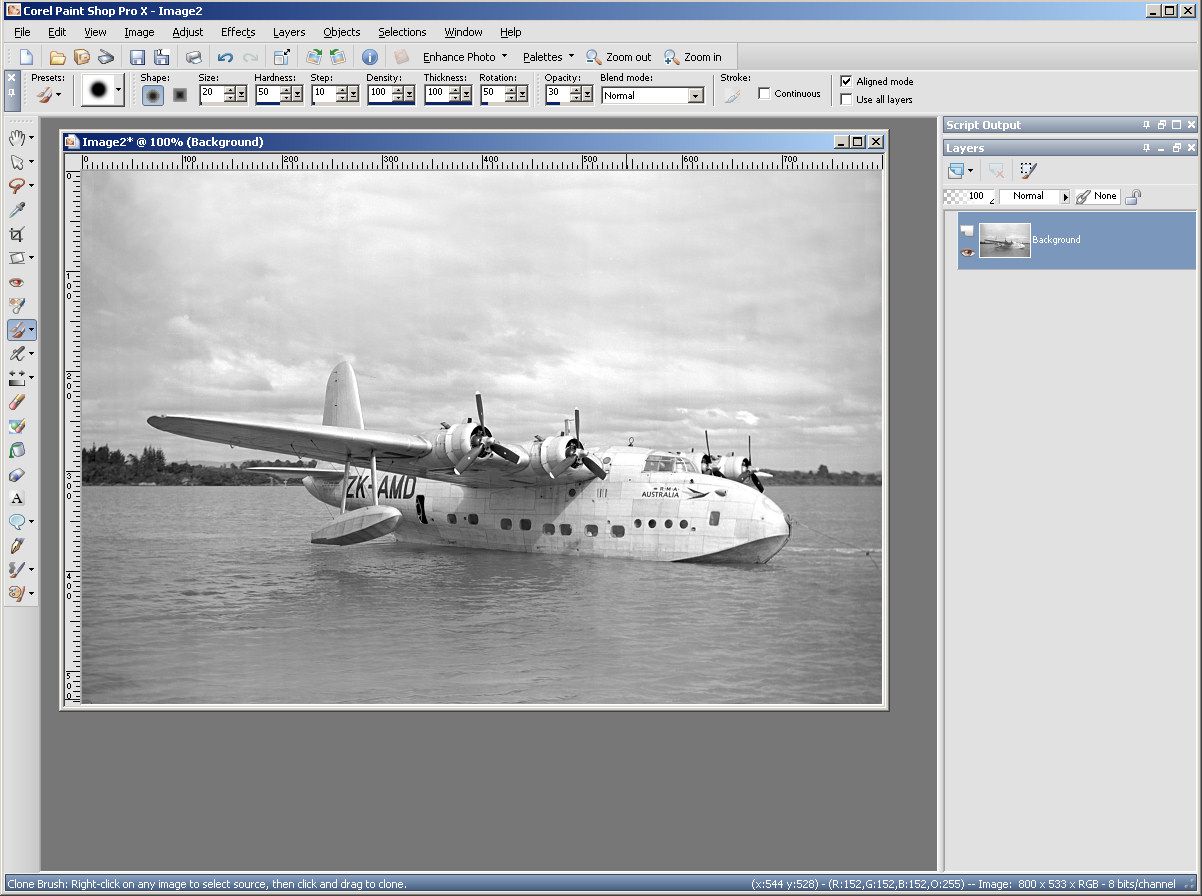 The final step is to export the photo as a jpeg file. For an 800 x 540 pixel image aim for a file size of 250KB to 300KB, large enough to give reasonable resolution on a computer screen and small enough for your viewer to download.
Keep both the original scanned uncompressed image and your processed jpeg. Should you have need to check part of the photo at a later date, or recreate the jpeg as your skills improve, you don't want the hassle of scanning the original a second time.
Have fun, and I look forward to seeing your photos.
Flyernzl