OK boys and girls, intermission over. I've done with buzzing Bantam microlights for now.
Time to put away your Jaffas and Topsys* and attend the screen once more.
Boeing PB2B-1 Catalina NZ4053 arrived Fiji 09 October 1944.
Served post-war with 5Sdn at Lauthala Bay as KN-K
Damaged when taxiied onto reef Lauthala Bay 25Nov45, restored.
Declared surplus 1956, Disposal #42/56. SOC and sold for scrap to NZ Metal Smelters for 175 pounds ex Hobsonville.

At Mechanics Bay, I've no idea which TEAL Solent is also edging into the photo.
and the groundies goofing off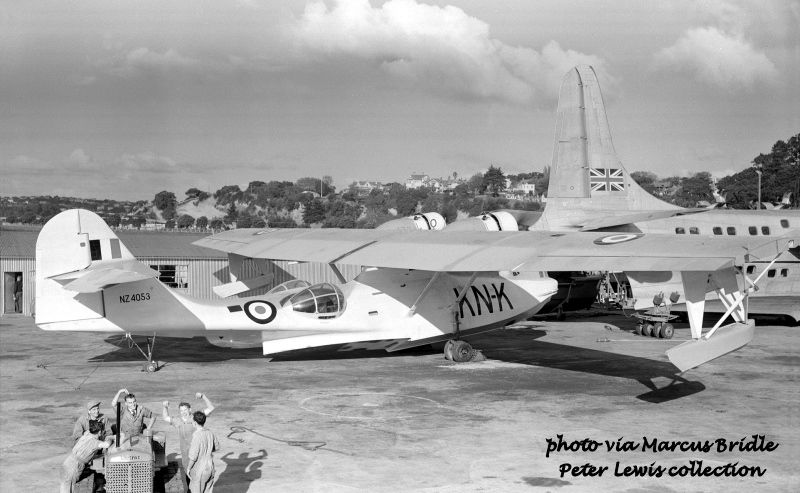 * = For those unlucky enough not to be born Kiwi, the vernacular:
- Jaffas are small balls of chocolate, about the size of a schoolboy's marble, coated with a hard exterior layer of orange confectionery. You buy a box of these at the movie theatre and after eating a few you wait until the movie reaches a quiet part (the hero is kissing the heroine, or the detective is tailing the baddie) and roll the rest of your Jaffas down the sloping wooden floor of the movie house so that they go rumble rumble rumble and disturb all the other patrons. Great fun.
- A Topsy is a vanilla ice-cream on a stick, coated with a hard dark chocolate shell. The ice cream boy comes down the theatre aisle during the intermission selling these treats.