I know that it has been rotting away for years, but the last photos I had of it were taken in 2002. Yesterday, I found much newer photos online.
The first was taken in February 2011 and it was found on the Air-Britain Historians site at:
http://www.abpic.co.uk/photo/1280288/
Later I also found these:
BEFORE (1967 at Gatwick Airport on its way to Pakistan as AP-AUY) - I had only seen this photo in B&W before. Look closely and you'll see the sign on the side of the hangar behind the airplane reads "Morton Engineering Services Ltd.":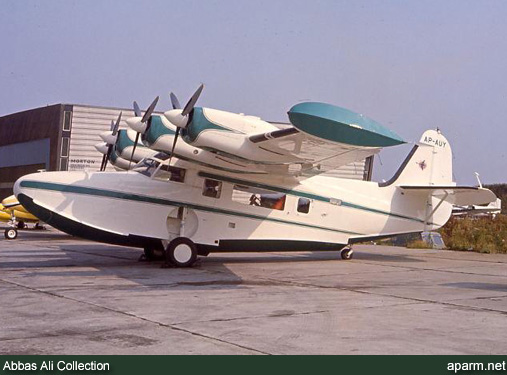 and the second "new" photo - the AFTER (2011 at Dhaka, Bangladesh as S2-AAD.) What a sad sight and what a waste of a unique and unusual aircraft. It was literally "unique" because in 1960, McKinnon G-21C serial no. 1201 was further converted and modified into the first and only McKinnon model G-21D and its serial number was changed to 1251. So, since 1960, this aircraft has been the only one of its kind in the whole world:
This aircraft was the second and last "real" McKinnon G-21C, serial no. 1202 ("real" because it was not a supposed simultaneous turbine conversion per STC SA1320WE as were all subsequent McKinnon "C" models.) It was converted from Grumman JRF-5 c/n B-78 in 1959 as N3459C. After originally serving the US Navy as BuNo. 37825, it was transferred to the US Coast Guard in 1952 and its serial number truncated to 7825. It was stationed at CGAF Barbers Point, Hawaii, until 1956 when it was sold to the Honolulu Department of Public Instruction and placed on the civil register as N5623V. McKinnon bought it in December 1957 and re-registered it as N3459C. The conversion into a McKinnon G-21C was started soon after the completion of the very first G-21C (N150M, s/n 1201) in December 1958. Prior to completion, N3459C was sold to the Everbrite Electric Sign Company of Milwaukee, WI on March 23, 1959, an Experimental certificate of airworthiness was issued on July 7, 1959 (which probably marked the end of the physical conversion process and the start of the flight testing phase), and then a final new Standard cetificate of airworthiness was issued on August 6, 1959 and it was delivered to Everbrite soon thereafter.
In January 1967, McKinnon bought N3459C back from Everbrite Electric Signs and spent most of 1967 refurbishing it for a new customer - the Government of Pakistan. In September 1967, N3459C was de-registered in the US and registered in Pakistan as AP-AUY. It was flown to Pakistan that month via Gatwick Airport near London. In Paksitan, it was supposedly used as a sort of "Air Force One" executive transport for the President of Pakistan.
After the civil war that resulted in the independence of East Paksitan and it becoming Bangladesh, AP-AUY was re-registered as S2-AAD - and it's been there ever since.