Good Morning Guys n Gals,
over the weekend, I paid a couple of visits to the Northern Modeling Exhibition at Event City, Manchester. I believe this was the second year of the event and I was (wrongly) under the impression that the content was all railway or steam. I paid a short visit on Saturday to find the show covered everything from RC cars, construction traffic, trains, boats and planes! The Large Model Association were there with a massive Avro Vulcan and a stunningly beautiful Vickers VC10 (in my mind the most beautiful jet airliner ever created). However, what caught my eye was a very nice scale Beaver on floats. I started chatting to one of the guys on the stand who suggested I'd better go over to the 'Wet Wings' stand, as I was sure to like the content!
So off I trundled to find the stand was from the Wet Wings Model Flying Club.
They have a website at;
www.wetwingsmfc.co.uk
As you can guess from their name, the club just flies seaplanes and float planes and are based about 25 miles from my home. They operate from two sites in St Helens.
Anyway they were an interesting group and are hoping to arrange a 'Splash In' this year.
Here's a taster of some of the aircraft on their stand including a Catalina,
a Ripmax Beaver,
a stunning Italian beast,
a general shot,
and finally, just for Bryan, the small Sunderland is a 1/72 scale Airfix kit, the flying version is the same aircraft, scaled up by a magnification of 4.5!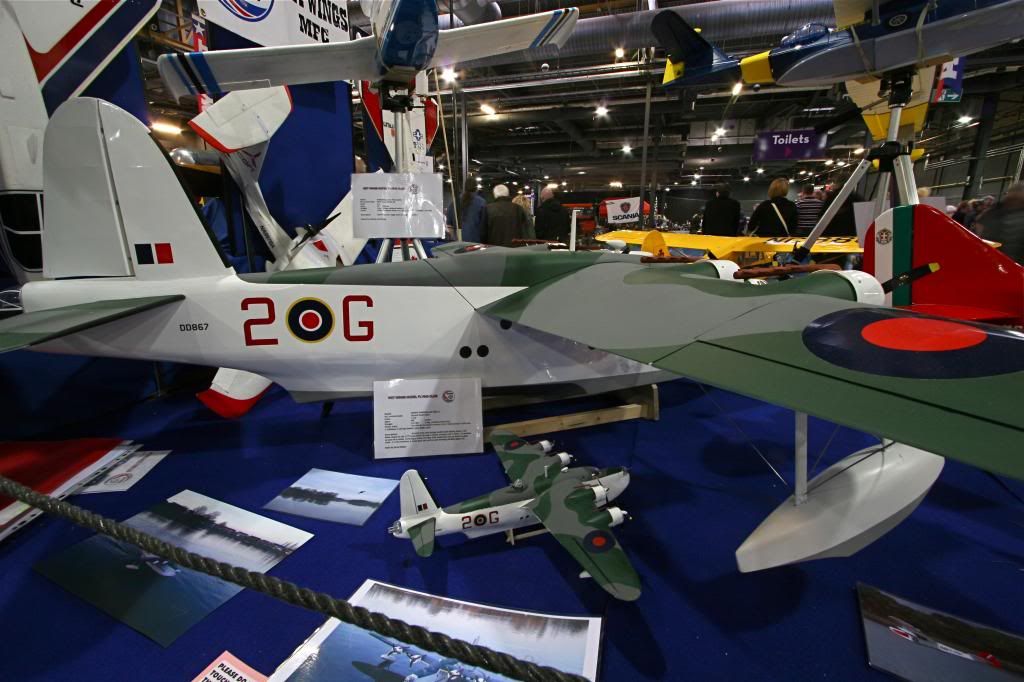 I took plenty of other images from the show but wasn't sure if it was right to post them here, so I'll wait to see if Bryan say's yeah!
Regards
Reggie