AlexNortonesq wrote:
Now, I hope that Alan can continue in your shoes with the Singapore series. All yours Alan!
That's what I said to Peter.
Now I have to state quite categorically that I don't have access to
photos of all four Singapores, and this information is
what I have gathered from my reading or research. Bearing that in mind please read on.
In 1939 discussions were held between the British and New Zealand Governments
on preparing and building land based aerodromes in Fiji as well as discussions between
Pan Am and New Zealand regarding a flying boat base for operations.
Serveral areas were considered, one in particular being Laucala Bay.
In Fijian it being pronounced Lauthala Bay, in Fijian the "ca" is pronounced "th".
With the attack on Pearl Harbour, Malay and Singapore (Dec 7/8 1941), United States
miliatry involvement in Fiji was increased. The aerodromes were
completed and Lauthala Bay was finished in September 1942.
Prior to the Japanese attacks, the RNZAF (Royal New Zealand Air Force)
was already involved in training it's personnel for the impending threat
in the Far East.
488 Squadron (NZ) was busy training to fly Brewster Buffaloes in Singapore.
Other RNZAF aircrews, who had trained previous in New Zealand on the
Supermarine Walrus at Hobsonville (Auckland), began arriving in September 1941.
This was to begin the transtion to flying the Short Singapore Mk III, currently on
strength with RAF 205 Squadron at Seletar, Singapore.
205 Squadron was ready to retire its Singapores, to replace them with
the Consolidated Catalina.
NOTE: Interestingly at this time Geoff Fisken, a young New Zealander who was attached to
205 Squadron training, wanted out of flying the Short Singapore, which he declared
"was like flying an oversized Walrus" (Supermarine). Geoff later went on to fly the Buffaloes
defending Singapore, becoming Ace. Later went on to fly the P 40 and F4U in the Pacific.
He still has the Commonwealth's (Pacific) highest score.
On October 1 1941, Squadron Leader D Baird (RNZAF) assumed command
of all RNZAF crews converting to the Short Singapore at Seletar, Singapore.
On October 14, four Short Singapore Mk III's were transferred from the
inventory of 205 Squadron RAF, to their new owners the RNZAF,
The following aircraft were transfered:
K6912
K6916
K6917
K6918
Two days later K6916 took off on it's delivery flight to Fiji from RAF Seletar,
followed shortly there after by K6917.
The ferry flight followed the legs from Seletar to Java to Timor, then to Darwin,
Groote island and Thursday Island in Northern Territory, Australia, Port Moresby and Samarai
in New Guinea, followed by Gizo and Tulagi in Solomon Islands, Santa Crux Islands, finally
Lautoka then Suva Fiji. K6916 arrived November 17 1941, K6917 arrived November 18, 1941.
The two Singapores did not go into service immediately, as they had to be hauled out of the
water and serviced after their long journey, not to mention the fitting of defensive armament.
During this time the RNZAF code OT-B was given to K6916 and OT-C to K6917. It is important
to note here, that during their operational service with the RNZAF, they retained their
RAF serials.
Some two weeks or so after their arrival, the two aircraft were carrying out anti submarine
patrols, and keeping a look out for Kriegsmarine Raiders in the Pacific (South West).
December 8 1941, a dark time for New Zealand military forces, in Malaya and Singapore. The
war was now closer to home. It should be remembered that Commonwealth forces put up a great
fight to protect Singapore from falling into Japanese hands. 488 Squadron (NZ) was the last
to leave Singapore just a day or so prior to the fall.
On December 10, the two remaining Short Singapores at Seletar flew in support of Force Z
(being HMS's Repulse and Prince of Wales). They returned to base before the attacks by the
Japanese which sank them. Though having rescued a Walrus crew who had ditched after
running out of fuel.
Meanwhile back in Fiji, K6916 (OT-B) who now was officially part of No 5 GR Squadron had an inauspicious
start to a mission to scout for radar sites. An issue with elevator trim made it impossible for the
aircraft to become airborne and it ran aground. Some sources say a reef, another a mud bank.
The hull was badly damaged and the aircraft, despite best attempt by ground crew, could not be repaired
at Lauthala Bay so the aircraft was stripped of parts and eventualy SOC (Struck Off Charge) in July 1942.
December 24 1941, the two remaining Seletar based Singapores, arrived in Fiji. K6912 receiving the
code OT-A and K6918 coded OT-D joing 5 GR Squadron.
The Singapores, by early January 1942, were carrying out patrols. This continued till November
1942, when due to serviceability problems the remaining aircraft were beached.
K6917 OT-B was stripped of useful produce (parts) and later became a house boat.
The planned arrival of the replacement Lend Lease PBY5 Catalina's, was delayed so the
last two Singapores were brought back into service.
March 8 1943 was the final flight for K6919 OT-C
Until April 16 1943, the remaining Singapore flew patrols until lack of spares caused the
aircraft to again be retired.
Shortly after this, the remaining two Singapore were filled with cement, towed out to the end
of the breakwater and scuttled in some 300 feet/91 metres of water, where they remain
to this day. Further reading seems to indicate that at least one or both became part of the
breakwater extensions. You can see the breakwater in this photo.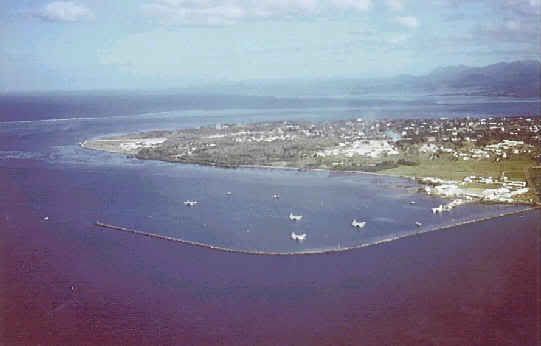 As of May 25 1943, the remaining Singapore crews transferred to No 6 Squadron at Lauthala Bay,
and converted to the new PBY5 Catalina's.
Some photos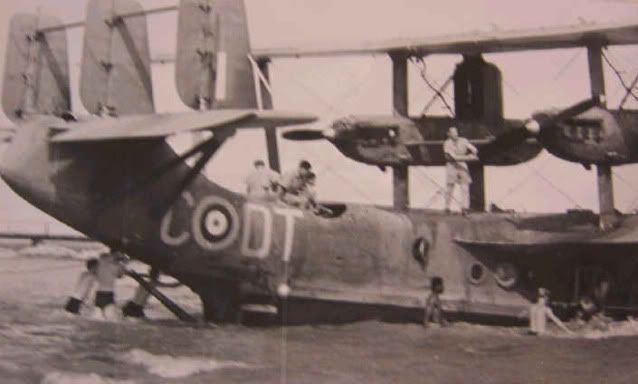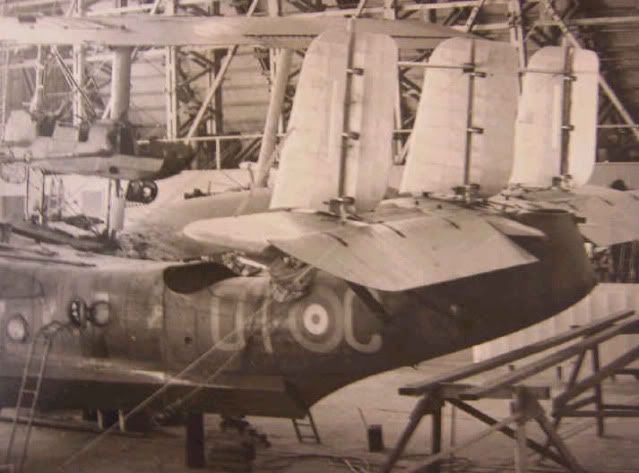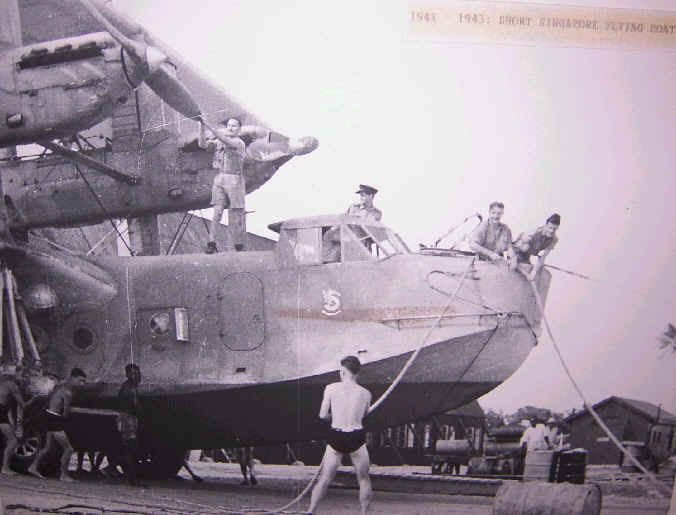 (Photos used for illustration only)
Regards
Alan
Peter back to you!