Short S.25 Sunderland III ML795 had been built by Shorts at Rochester, shop order no.SB46668 and was bought on charge with the Air Council on 23Sep1944. This aircraft departed RAF Mount Batten on 28Oct1944 with Flt Lt Jack Pettit as Captain to travel alongside ML793 to Lauthala Bay in Fiji. ML795 flew to Auckland on 2Dec1944. This trip took ML795 124hrs 45mins flying hours.
Upon arrival at Hobsonville, ML795 was bought on charge as NZ4104 on 4Dec1944, had the ferry equipment removed and was fitted out for military freight and passenger transport operations. As part of the Flying Boat Transport Flight, the name 'Takitimu' was applied to NZ4104, the name of one of the original Maori migration canoes from early New Zealand settlement.
NZ4104 was employed on the Auckland - Suva and Auckland - Noumea - Espirutu Santo routes from February to October 1945, losing its wartime camouflage in favour of a natural metal finish after VJ day.
NZ4104 at Mechanics Bay while in service with the FBTF, another Sunderland gets engine maintenance in the foreground
NZ4104 was then laid up at Hobsonville in October 1945 awaiting resolution of the engine/propeller problems that had surfaced during Pacific Service.
In storage at Hobsonville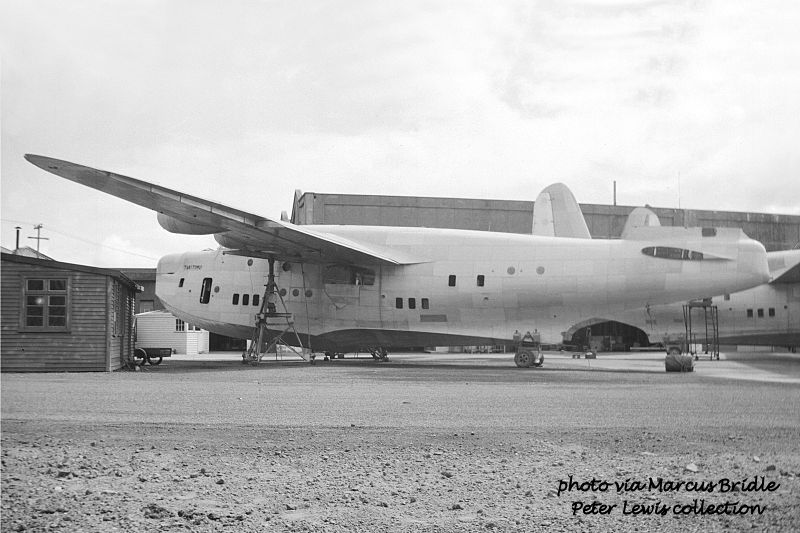 By January 1946, civilian use for the Sunderland fleet had been identified, and conversion of NZ4103/ZK-AMG to a 26 passenger civilian standard had started at Hobsonville, with work om NZ4102/ZK-AMF to follow. As already discussed, the conversion work on NZ4102 apparently ran into difficulties and NZ4104 was selected to replace it.
Ownership of NZ4104 was therefore transferred to the NZ National Airways Corporation and the aircraft became ZK-AMK on 22Dec1947 equiped to carry 26 passengers.
ZK-AMK was operated alongside ZK-AMG on the Auckland - Suva - Labasa route, making its last commercial flight on 1Jun50.
ZK-AMK moored out at Mechanics Bay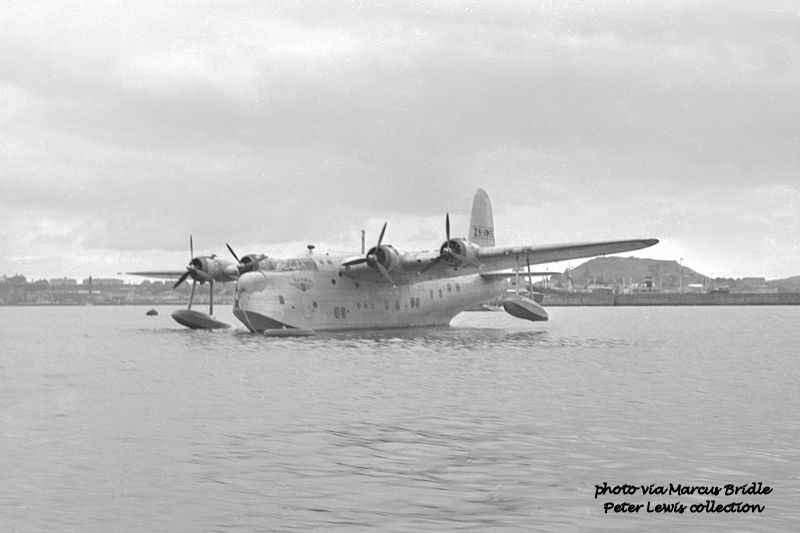 Under maintenance at Hobsonville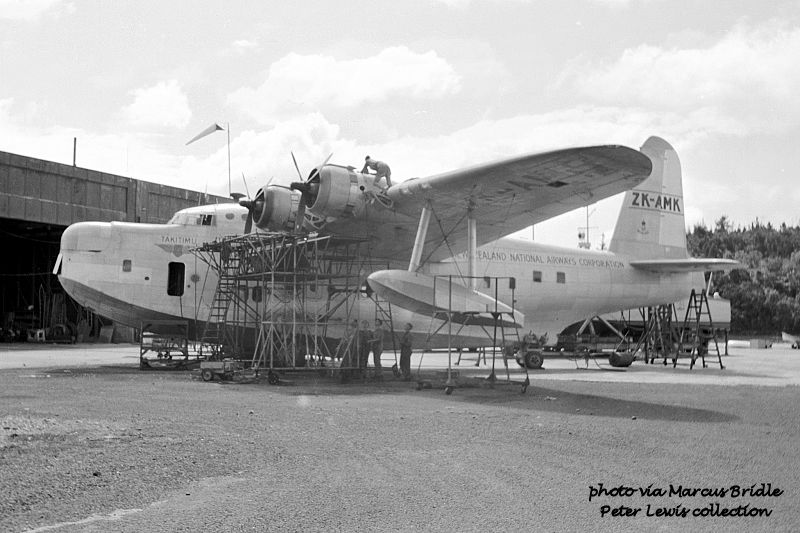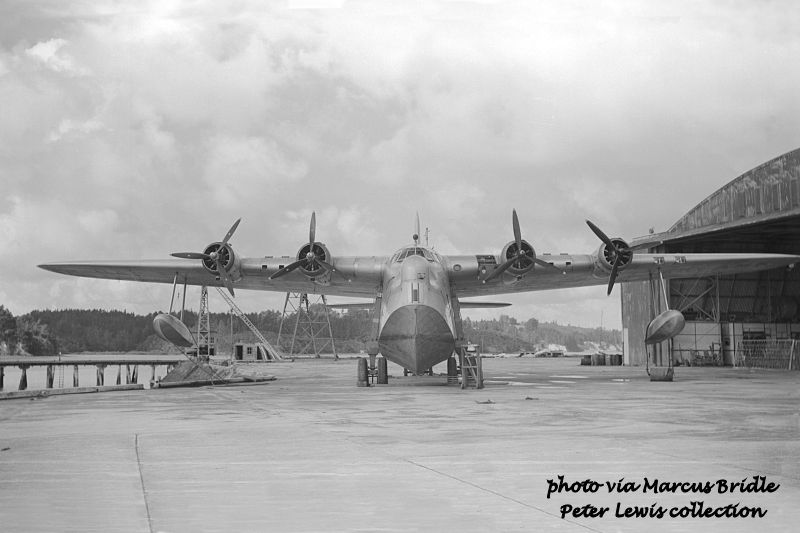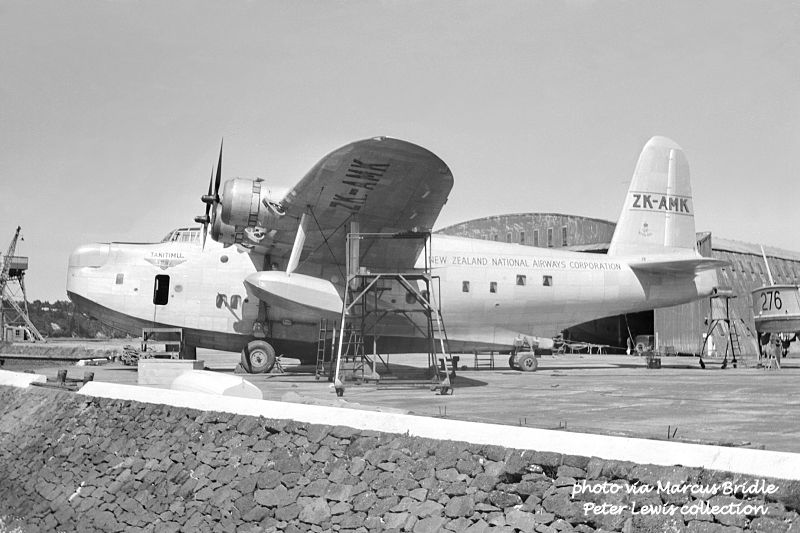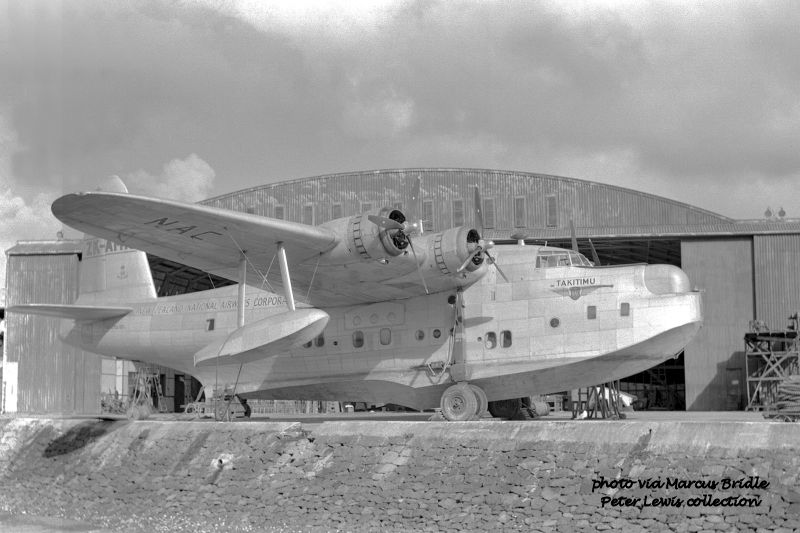 Moored out at Hobsonville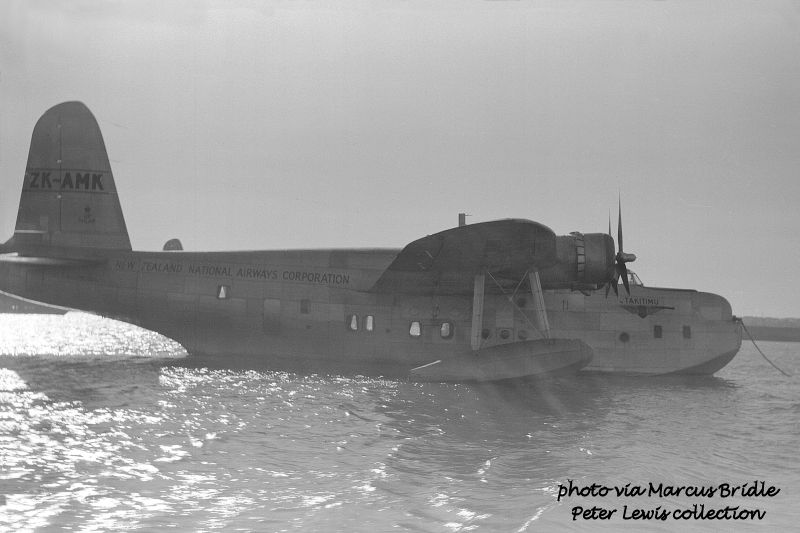 After its service with NZNAC, ZK-AMK was returned to the RNZAF, where is was placed in storage at Hobsonville. It was bought back on charge as NZ4104 so that it could be offered for sale by tender on 28May1951, but it was not sold at that time.
By now, the purchase of the ex-RAF Sunderland Mk.5 fleet was imminent so NZ4104 was repainted back into military colours and used by 6 Squadron to train crews in the water handling and beaching procedures of these aircraft. Deemed seaworthy but not airworthy, NZ4104 carried out these duties from May 1952 until mid-1953.
The civil registration ZK-AMK was not cancelled until 8Jul1952.
NZ4104 at Hobsonville 1953 in its last livery, simplified by just overpainting the civilian registration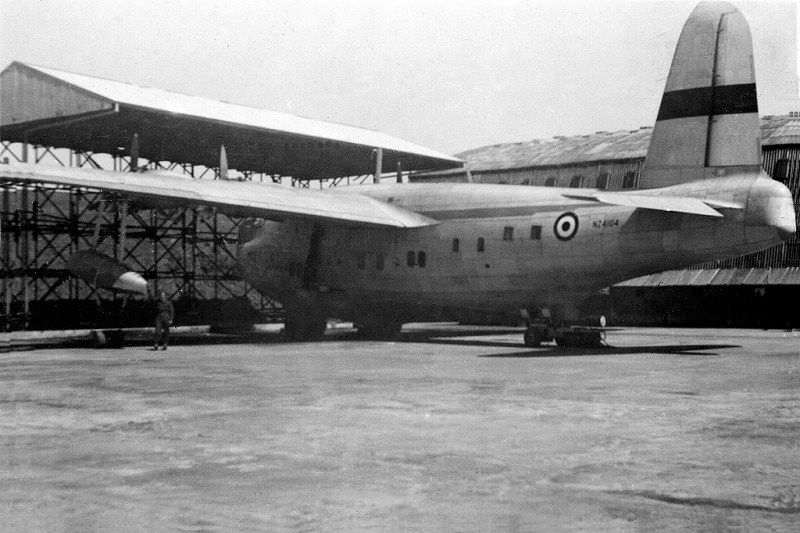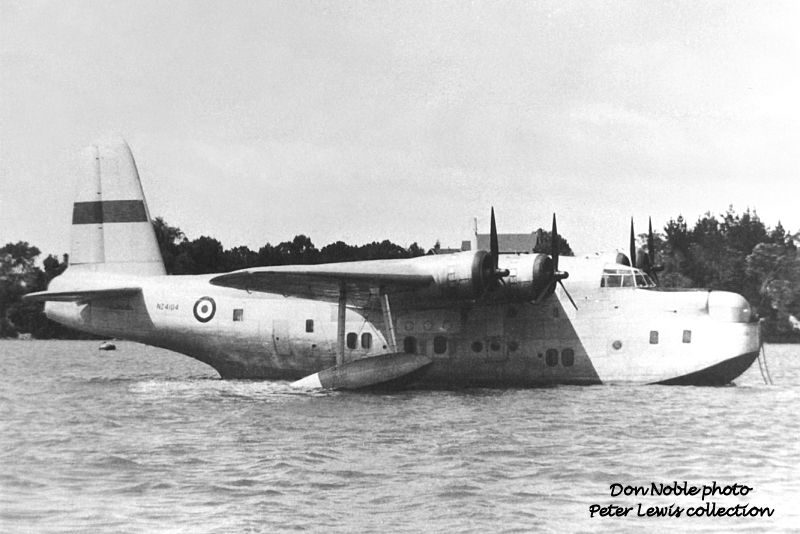 Feathered friend inspecting the starboard wingtip
Following this episode, NZ4104 was again offered for sale by tender on 23Nov1953. This time, a sale was concluded and the scrapman cometh.
However, the ghost of ZK-AMK lives on.
When you are passing through the Wellington Airport domestic terminal, walk through to the departure shopping area, turn right walk along the rear wall until you come to the escalators that take you up to the third floor conference and Qantas domestic lounge complex. In the foyer of this third floor area is a glass case containing a nice model of Short Sunderland III ZK-AMK. On the wall above this model is a framed tribute to Brian Layne, one of the Sunderland transport pilots. Well worth a look and not many people know that it is there.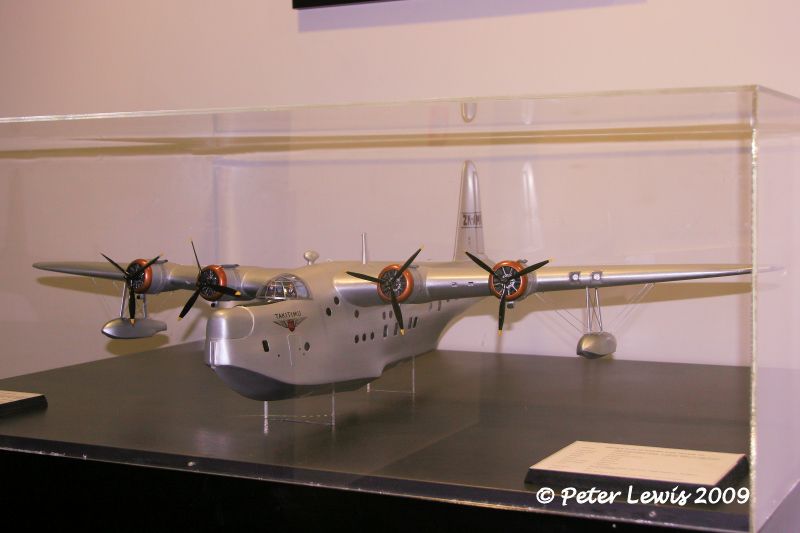 next: ZK-AML