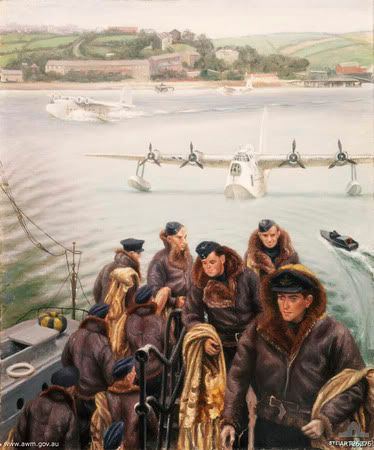 http://cas.awm.gov.au/item/ART26275/
I knew of Stella Bowen from her 'Bomber Crew' painting so was pleasantly surprised to find she had painted another crew -
A Sunderland crew comes ashore at Pembroke Dock
.
Group portrait of the crew of Short Sunderland flying boat, 461 Squadron, RAAF at Pembroke Dock, Wales. Seen as crew come up the steps are: Fredrick (Derry) Syme (pilot), Ronald Warfield (navigator), Ron Tyson (gunner), Eric Genders (gunner) and Charlie Martin (third pilot), 'Spud' Murphy (wireless operator/air gunner), Bob Mead (wireless operator/gunner), Merv Pike (second pilot), Jock Beattie (RAF, first engineer), 'Curly' Rowland (RAF, second engineer) and John Bishop (RAF, wireless operator/gunner) at Pembroke Dock, Wales. The last three were RAF, the others RAAF. Sunderland flying boats, part of tender from which crew is landing.
I'll endeavour to check my copy of Ashworth's
The ANZAC Squadron
to see what references to this crew are in it. Feel free to jump in if you have any info on this crew. Other than that, isn't it a wonderful image?
Incidentally, I would hazard a guess that you can get a copy of this print from the AWM.