In 1946 the RAAF started offering surplus Catalinas for sale to private operators. The standard price for such an aircraft in airworthy military condition was one thousand pounds.
Captain P G Taylor was part of the Marinair Syndicate who bought five ex-RAAF Catalinas in late 1946. Taylor flew one of these aircraft, A24-350, from Sydney to Lord Howe and return on 28th December 1946 on a proving flight. Work then started on the converting the aircraft to civil status at Mascot airfield as VH-ALN. However, it soon became evident that the Australian authorities would not be co-operative so Marinair sold all five aircraft and was wound up in 1947. VH-ALN later flew with Qantas until 1958 as VH-EBC.
Meanwhile ex-Catalina pilot Brian Monkton had purchased five ex-RAAF Sunderlands plus a mountain of engines and spares in October 1946. He then formed Trans Oceanic Airways in February 1947 and started to operate airline charters from Rose Bay. Sunderland A26-4 was converted to civil status as VH-AKO and Monkton flew this Sunderland on a charter flight to Fiji on 30th June 1947. The return flight back to Rose Bay via a refueling stop at Noumea took the aircraft close to LHI and Monkton obtained permission from the Lord Howe radio station to alight on the islands lagoon. This was despite the official ruling that the six feet draught of a Sunderland was too deep for safe operation in the lagoon.
On returning to the mainland Trans Oceanic submitted an application for a regular flying boat service from Sydney to the Island. This service commenced on 1st August 1947.
Commemoration plaque mounted on the side wall of 'Chichesters Workshop' - the old goods shed at the freight wharf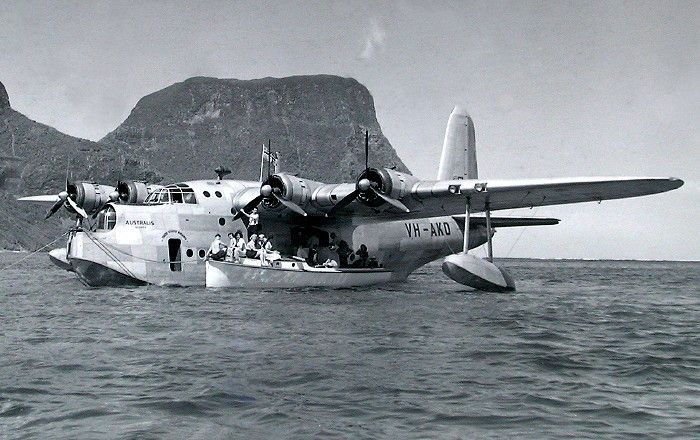 Trans Oceanic Sunderland VH-AKO transferring passengers at LHI
Meanwhile Qantas had also acquired some of the surplus Catalinas, and after carrying out a survey flight on 20th November started a regular schedule of flights from December 1947 with VH-EAW ex A24-378 and VH-EAX ex A24-372.
During a storm overnight on 22nd/23rd June 1949 VH-EAX broke loose from her mooring near the freight jetty and was wrecked when it came ashore on the nearby rocky beach. The aircraft was too badly damaged to be repairable, and was stripped where she lay. A large part of the wing was used as reinforcing in a beachside retaining wall at Neds Beach, and can still be visible from time to time (but not, unfortunately, during my visit).
(Geoff Goodall website)
Its sister-ship VH-EAW was destroyed when it blew up while moored at Rose Bay early in the morning of 27th August 1949. It was found to be deliberate sabotage, but the culprit was never identified.
VH-EAW at Rose Bay flying boat base, Sydney (Geoff Goodall website)
Qantas then used their Sandringhams on the LHI service until the two competing airlines reached an agreement in December 1949 that Qantas would leave the Island service to Trans Oceanic in return for that airline not competing with Qantas on their New Hebrides service. There are reports that Sandringham VH-EBX was used by Qantas on the LHI route, carrying out 19 return trips under their ownership, but as this aircraft did not join their fleet until 1950 this needs further verification.
Sandringham VH-EBX at Rose Bay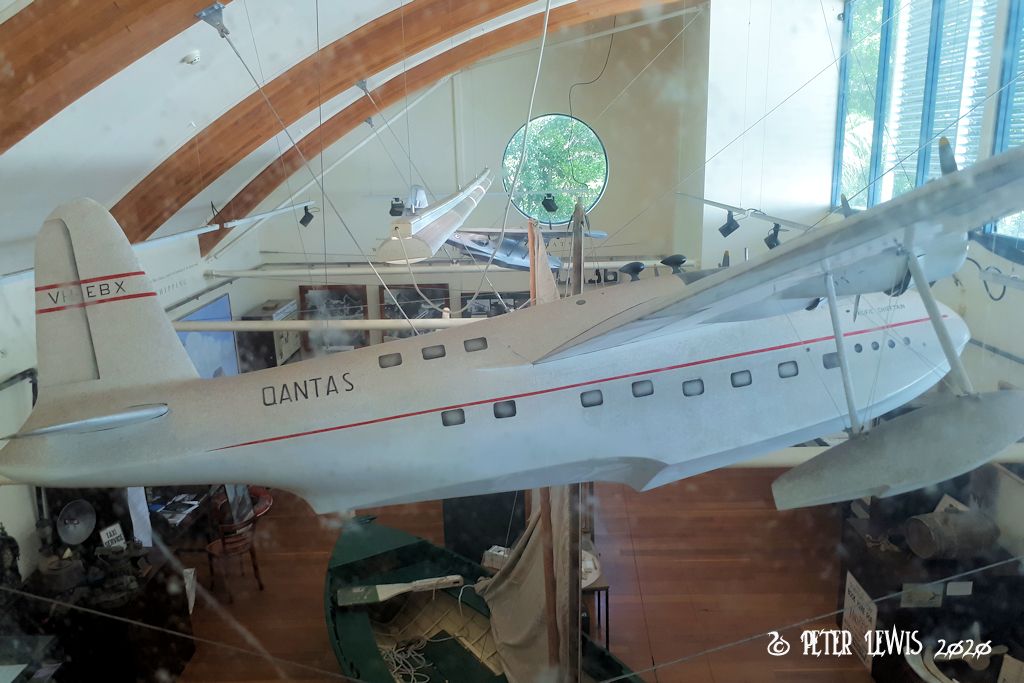 Model of VH-EBX on display in the Island's museum
Trans Oceanic Airways were now the sole operator of the Lord Howe Island air route.