Hello,
Some seaplane tender photos, used by PAN AM Boeing 314 clippers in the Horta harbour, Faial island, Azores. These are from two souvenir photos available in a local photographer's shop. The other is from the Life online photo archive, on Flickr.
They are dated from 1939, I think.

There is another boat behind, that is very similar to the motorized boats built locally to connect the nearby island and used (used as tugs to smaller whalling boats) in the whale hunting.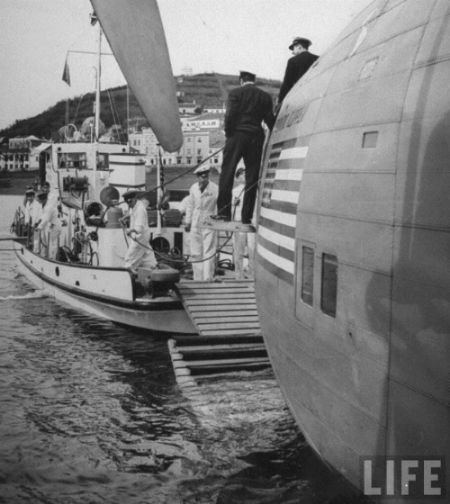 In anyone has some more info on these crafts, please post.
Incidently it is curious that the PAN AM seaplane operations in Brasil also had crafts with the same name, "panair", as can be seen here:
http://fotolog.terra.com.br/jban:511
http://fotolog.terra.com.br/jban:1866
From these I tought that maybe the boat used in the Horta harbour could have originated from Brasil, as the hull type is very different from the boats built in the Azores at that time. Another origin could be an american design ( and possibly built in a local shipyard?), maybe from US Navy origin and used in American seaplane operations, as I have found a similar type, built for the military, altough dated from 1951.
http://www.nationalhistoricships.org.uk ... /steadfast
However, I didn't find yet any photo that could prove this.
G_Mendes