For many years I have been searching, posting forum messages like:
"During the period 1943 - 1956 the Royal New Zealand Air Force operated 56 Catalinas, all Consolidated PBY-5 and Boeing PB2B-1 non-amphibious flying boat versions.
The last of these boats were withdrawn and sold for scrap in 1956.
One Boeing PB2B-1 Catalina NZ4055, 'KN-L' of 6Sdn, was sent for disposal under contract #42/56 and was sold for £250 to Jack Sellars, of Wellsford, North Auckland (a local garage proprietor). The aircraft was towed up the coast, beached, and taken to Mr Sellars house where it sat for some years. (There are some reports that it was marked as NZ4057 during this time). The fuselage was scrapped in the late 1960s.
Has anyone a photograph of this aircraft taken during this disposal process? I can remember seeing the fuselage alongside the house as my family drove past when I was a child, but although it must have been something of a local landmark, I have so far been unable to track down any photographs of the Catalina at this time."
and:
"Boeing PB2B-1 Catalina NZ4055
Declared surplus 1956, Disposal #42/56. SOC. Sold £250 J Sellars, to Wellsford 1958 (marked as NZ4057?), scrapped late 1960s
The owner of Sellars Garage at Wellsford.
As I heard it, it was towed from Hobsonville to Leigh. At one stage, the fuselage was to become a yacht, but that didn't work, so as Bruce says it went to Wellsford township.
I used to look out for it on our car trips from Whangarei to Auckland. It was between two houses on the main road to the south of the town centre, on the right hand side travelling south, nose pointing towards the road.
I was too young to be taking photographs then, but I still cannot resist looking for it on the way past even now.
Some fellow wrote a brief article on this Catalina in Wings magazine several years ago. I responded (giving the information above) in the hope that he would be able to track down a photograph, but I never had any response from him.
Another of these unphotographed mystery ships, like the Cambridge Corsair!"
and got a few responses, like this:
"Further to the story on the Wellsford Catalina I have found some more info on it.
J Sellars, a local garage proprietor, intended to convert it to a twin screw sea going launch with 20 bunks. He bought it for £250 and towed by launch from Hobsonville to Whangatau Harbour. The wings and tail unit were first removed by axe and handsaw, and the aircraft, or what remained of it, was taken to Wellsford. When finished a further part ot if it's tail was to have been removed, part of the fuselage top replaced by a small false deck, it was to have a wide buffer strip around it and below decks there was to be a stateroom, bunkroom, navigation room, and storage space all separated by watertight bulkheads.
I guess everybody needed a dream! (and to hell with corrosion)"
I even revisited the property at Wellsford:
"I sent an email inquiry to the local museum. After two weeks and no response I drove up to Wellsford this afternoon.
Yes they had received my email and discussed it, no they had not sent a reply.
They have nothing definite on file, but were able to give me a few leads - friends of the Sellars family, the contact for a local photographer who was active in the area around that time, an an ex-RNZAF serviceman from WW2 who has lived in the area ever since. I will follow these up and see what I find.
Most importantly, the lady on duty remembers the aircraft being at the Sellars house, and was able to describe the house to me. A pedestrian expedition between the rain showers confirmed the site - 69 Rodney Road (which is part of the main road, pretty much where I remember seeing it as a kid).
Looking at the house, the conservatory/extension on the right hand side is fairly new. Before this was built (1970s?) this is where the Catalina fuselage sat, nose towards the road.
Finally success, from another posting:
"Here's what you've been waiting for. Don Subritzky took these photos of the Catalina in Wellsford
in 1968.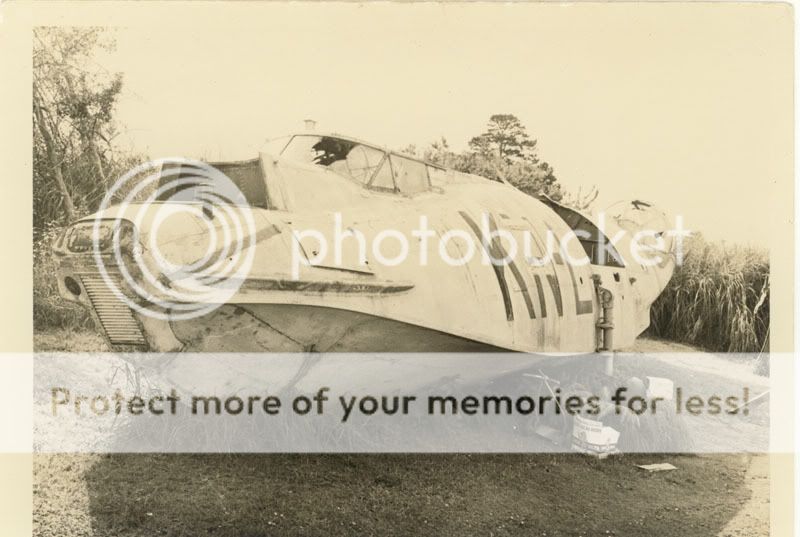 Judging by the date and location, this would have been after the house extension had been built and the hulk had been moved to the rear yard of the house.
Soon after this time, the remains were scrapped.
All things come to those who search long enough.