In late 1937 the Australian Civil Aviation Branch of the Department of Defence (CAB) recruited R.S. 'Russell' Robinson, an aeronautical engineer from the Bristol Aeroplane Company in the UK, to join the CAB's engineering staff. Before proceeding to Australia, the CAB had Robinson visit several companies and institutions in the UK, France, the Netherlands, Italy and Germany to gather information about the current state of the art in aeronautical design and practice, as well as research being undertaken that might point to future developments.
Robinson was also given a particular brief "To make a thorough study in the limited time available, of the design, construction, and general operation and repair, of the Short Type 'C' Empire Flying Boat, its engines, airscrews and automatic pilot." Accordingly, over the period 16 November to 21 December 1937, Robinson visited Shorts at Rochester, the Bristol Aeroplane Company's Engine Division at Filton, de Havilland Propeller Division at Hatfield and British Sperry Gyroscope Co. at Brentford. Robinson's report survives in the archives of the Civil Aviation Historical Society (
http://www.airwaysmuseum.com
), and here are some photos from it.
Short S.20 Mercury G-ADHJ on the Medway at Rochester.
VH-ABB
Coolangatta
nearing completion with another Empire 'boat hull in the jigs in the distance. In the left foreground is an early Short S.25 Sunderland Mk I.
Robinson was fortunate to get a flight in VH-ABA
Carpentaria
on its acceptance flight from the factory to Imperial Airways at Hythe. In this image, Chatham naval dockyard is in the foreground with the Shorts works behind the port outer nacelle.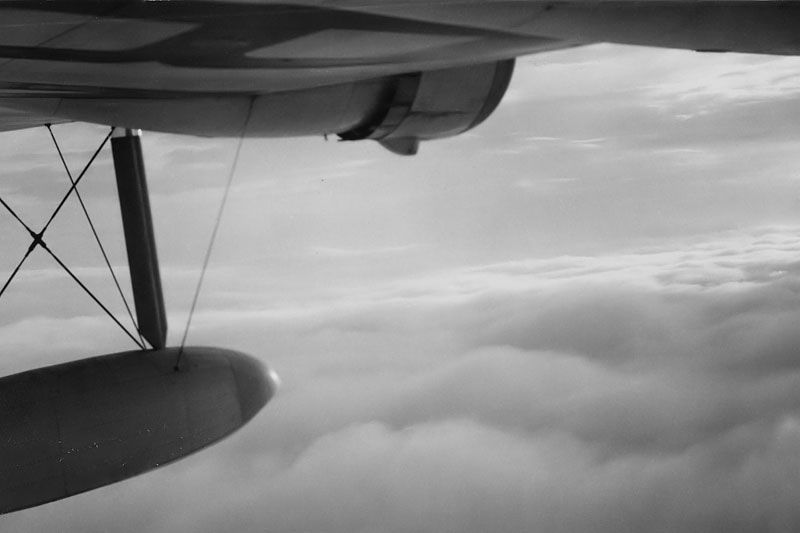 VH-ABA
Carpentaria
in flight above cloud.