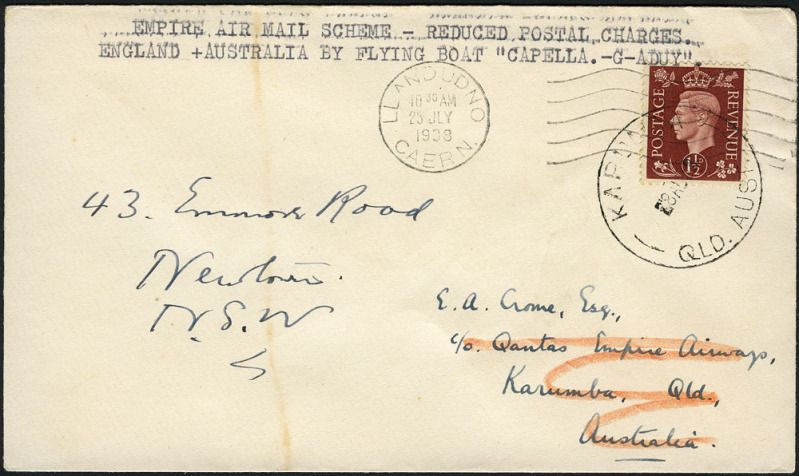 One can uncover some interesting things through careful study of surviving mail items.
This cover was flown on the inaugural service of Stage 3 of the EAMS, service SE1, from Wales to Karumba as originally addressed. The Karumba postmark indicates it was then flown on the next-but-one service, SE3, to Sydney (SE2 passed through Karumba on 7 Aug - this postmark is 8 Aug). SE1 was the first service at the unsurcharged rate of 1½ d per ½ oz, as demonstrated by the stamp and the typed explantation. The cover was flown aboard an undetermined Short S.23 Empire flying boat to Karachi (two aircraft carried mail as far as Egypt), then aboard G-ADUY
Capella
to Karumba, Captain P.W. Lynch-Blosse. Note that Lynch-Blosse came to Australia to provide experience to QEA for a few months and that a Qantas Captain did not take over at Singapore as would normally occur. It was then flown Karumba-Sydney aboard G-AETW
Calpurnia
. The cover is addressed to E.A. Crome, a well-known aerophilatelist and friend of many early Sydney-based aviators. He was, incidentally, also a great friend of Qantas founder Hudson Fysh who was a fellow aerophilatelist.
The cover was originally addressed c/o Qantas Karumba, although Qantas did not have a presence there (they probably had an agent, but I don't know who that was). This is the practice of getting 'intermediates', which are normally much rarer than mail flown over the whole length of the service. The cover has been re-addressed to Crome's home in Sydney, which indicates that he must have sent a separate letter to someone in Karumba asking them to do so. The fact that the cover went on SE3 instead of SE2 indicates that it took more than a couple of days for the mail to be reprocessed in Karumba (SE1 went through on 5 Aug) - it would have had to go to the Postmaster first, then be delivered, then readdressed and put back in the mail. Actually, I'm surprised it got re-posted without any Australian stamp for the second journey.
So there you go - an interesting story from one item of mail.